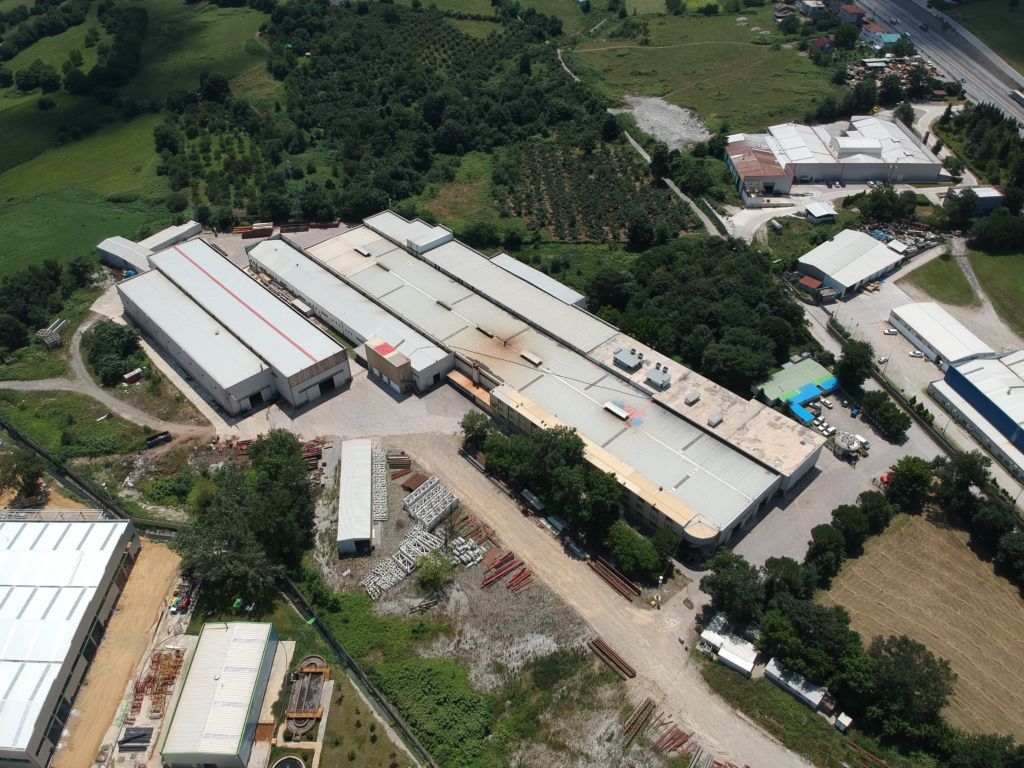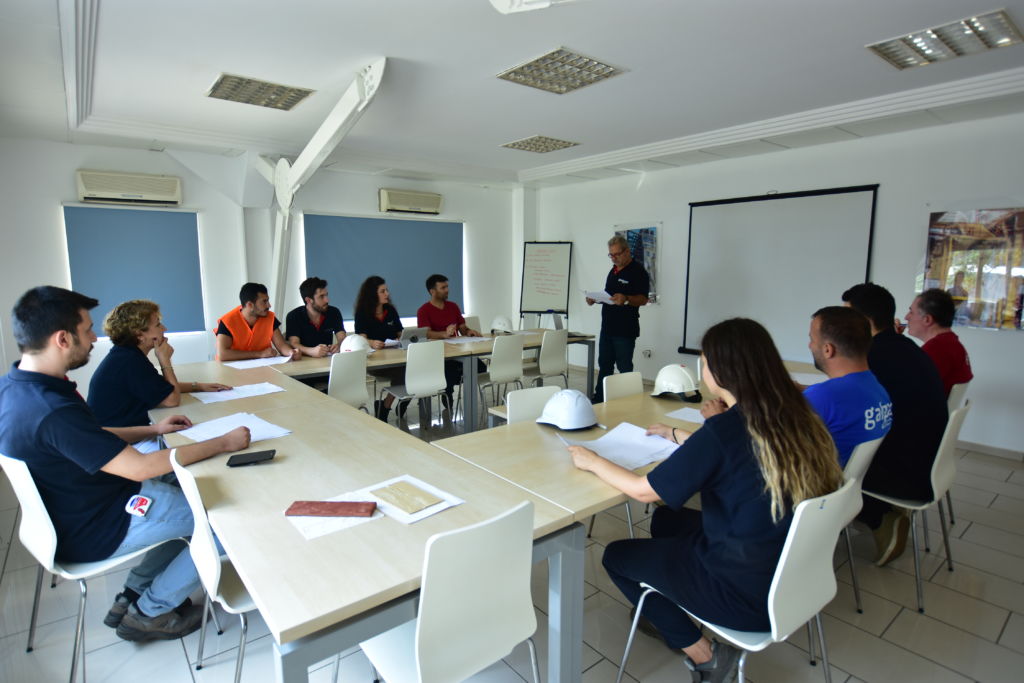 GALPAN is a fully integrated manufacturer of structural steel and steel parts. Only hot-dip-galvanizing and machining processes are outsourced.
The production plant is located in a 60.000 m² site in Sakarya, Turkey. The total building area is 15.000 m². The main manufacturing building area is 6,000 m². Besides, the building dedicated to painting, final inspection, marking, packing and dispatching covers 2,400 m². The second manufacturing building is 1,800 m². Three-story office building has 1,050 m² of usable surface. Moreover, a 3,800 m² area building under construction and it will be used for manufacturing, while the third manufacturing building is 3.800 m²
The plant is located 150 km. from east of Istanbul, in 80 minutes driving distance. There is a good quality highway between the Headquarters and the Plant.
In general, the plant works one-shift per day. Bottlenecks are eliminated with overtime work and department level increases to three-shift arrangements. Our monthly production capacity per shift is 800 tons for light structures, 1,200 tons for normal weight structures and 1,500 tons for heavy structures. These figures cover only structures and exclude other items such as roofing, siding, etc.
The Company spares on average 80 percent of its capacity to export markets and if a stable and reliable demand arises, company can substantially increase its capacity by opting for three shift schedule.
The location of plant is near Izmit Bay, where several ports are located. These ports handle containers as well as bulk cargo. The plant odes do not have a direct access to railway, but the railway is approximately 1,000 m. away. However, it is possible to load railway carriages in Sakarya area.
Our quality control and assurance system was reviewed and approved by stringent QA/QC standards in order to become an approved supplier for Baku-Tfilisi-Ceyhan (BTC) Oil Pipeline in which British Petroleum was the project owner.
Source: Web page (Manufactoring / About Galpan Factory)
Surface treatment and PAINTING LINE
Surface cleaning and paint application processes, which are critical for corrosion protection and color retention, are handled by state of art "Automated Surface Treatment Line" which is 220 meters long in length.
The line is all conveyor driven and able to handle unusually big pieces up to 2.5 m (width) x 3.0 m (height) x 16 m (length), and is the largest coating line for steel structures in Europe.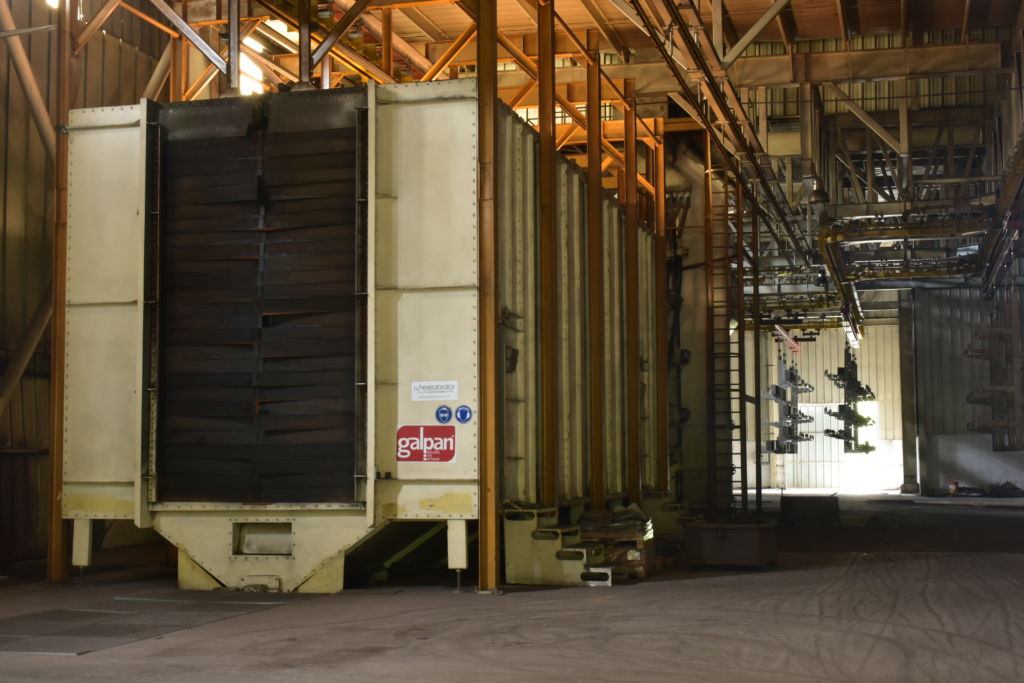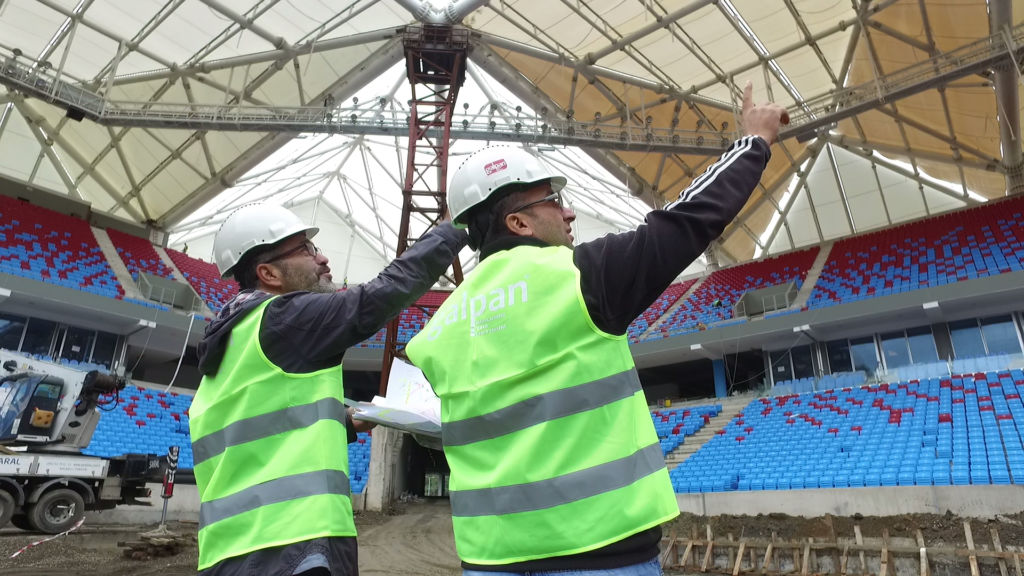 Galpan is an OHSAS 18001 certified company to ensure procedures for maximum worker safety during both manufacturing and installation. (???)
Galpan employs 11 engineers, 2 draftsmen, 1 architect, 1 financial officer, 3 accountants and 5 assistants in its headquarters in Istanbul, Turkey.
It has a total number of 240 employees in its factory in Adapazarı, Turkey.
GALPAN accomplished many projects both in Turkey and in various countries such as USA, France, Romania, Georgia, Azerbaijan, Turkmenistan, Kazakhstan, Qatar, Pakistan, Algeria and Chile, including industrial plants, energy, maritime and transportation structures, stadiums, shopping malls, cultural centers and hotel buildings. These projects have varied in complexity of design requirements and installation work.