GALPAN has an in-house design and engineering division based in the HQs in Istanbul, Turkey. GALPAN Engineering division is capable of designing and detailing any type of steel & concrete structures, following several set of codes and standards.
GALPAN offers "Concept Design" services in the context of structural engineering. Our services help evaluation of several options and support the process of architectural concept design. Furthermore, the "Concept Design" process is an essential part of any feasibility study in terms of time and money.
Pre-construction In-depth Evaluation
As part of the "Concept Design" process, GALPAN offers in-depth analysis of competing options in order to help well informed decision making.
By focusing on design issues prior to fabrication, design-assist allows for improved procurability, manufacturability, constructability, transportability and installability, as well as mitigating the need for excessive change orders in the field, while controlling budget and improving estimated timelines.
In this process, we believe in the benefits of co-location, either physical or virtual. This is the key for success of the design-assist process in which owners, contractors, architects, and fabricators work together from the beginning to develop a plan for building the project.
GALPAN may start structural engineering from scratch or may take over from a FEED (Front End Engineering Design). Whatever is the scope, GALPAN executes structural engineering and detailing by seamlessly coordinating with manufacturing, logistics and erection processes. As part of an integrated company, GALPAN's structural engineering is geared to cover the entire process from the concept design to the completion of the erection, including construction stage analysis and method of installation. This approach ensures predictability, thus efficiency.
This process is understood by GALPAN as covering all the engineering aspects of a certain development including geotechnical issues and foundations. GALPAN coordinates these different aspects of the design process in order to manage all possible clashes with other trades.
Structural Optimization Engineering (aka "Value Engineering")
GALPAN has an efficiency oriented approach to "Structural Optimization Engineering." The sole purpose is not to save material but rather to make the entire process more efficient, fast and safe. One of the most important criteria is to move labor away from the job-site to the off-site where building elements are fabricated/manufactured.
3D Modeling and Detailing
Applied Science Engineering
In addition to standard frame element Finite Element Method (FEM) analysis, GALPAN performs other calculations where needed.
* Shell and Solid Element FEM Analysis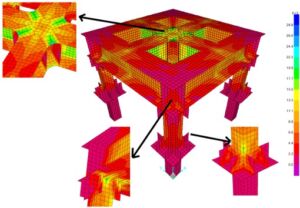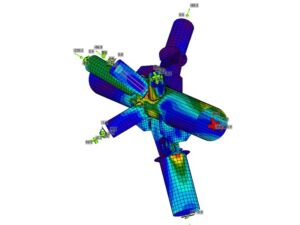 GALPAN performs shell and solid element FEM analysis to engineer solutions for intractable details such as complex connections and moving mechanical parts.
* Tensile/Fabric Structure Engineering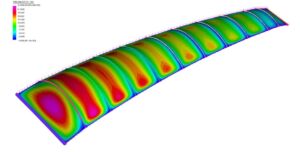 GALPAN collaborates with architects and fabric suppliers/installers to design and detail tensile/fabric supporting structures to achieve:
– form-finding,
– integrating building envelope into structural model,
– structural analysis of preferred form, and
– final detailing including shop-drawings.
* CFD Analysis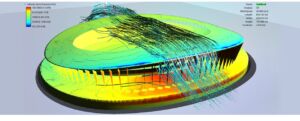 GALPAN performs CFD (Computational Fluid Dynamics) analysis of structures with complex envelopes such as stadiums and high-rise buildings susceptible of adverse wind loads.
* Footfall Analysis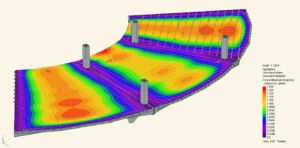 In order to reach higher serviceability standards, we apply footfall induced vibration analysis to floor systems.
* Welding Engineering
Where is needed and/or necessitated by cost issues, GALPAN executes detailed welding calculations in order to optimize the process. International Welding Engineers (IWE certified by GSI-SLV www.gsi-slv.de), members of GALPAN's engineering and manufacturing teams, actively participate in the process.
* Fire-proofing Engineering
GALPAN's fire-proofing engineering capabilities help offer customers options considering the entire structural design process.
A cost/benefit analysis covering fire-proofing vs. structural overdimensioning in border cases appears to be helpful.
GALPAN offers «factory applied» intumescent paint option.
This is an important option to improve cost and schedule impact of intumescent fire-proofing.